T-shirts
The pre-order is over. Jason has to get the order in so that we can have them in time for the event. If you are unable to make the event and pre-ordered, he will make arrangements after event to have it shipped to you. We will have a limited amount of extras at event. Thank you to everyone that pre-ordered.
Pre-order closed on March 26, 2018.
The shirts will be available for pickup at Friday lunch cookout, Richard's Friday night and Saturday at the Moonshine store.
PLEASE NOTE – The shirts will not be at the Days Inn and Suites Saturday morning. They will be at the Moonshine store.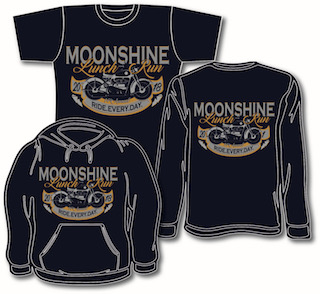 Only printed on front, navy color.