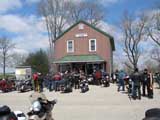 10th Annual
Moonshine Lunch Run
12 April 2014 in Moonshine, IL
10/19/2013 - I'm just starting to get the page ready for next year. My current project is to collect pictures of last year's MLR.
Keep checking back here for updates.
It looks like the 11th Annual will be 11 April 2015!
And remember Terry's famous words.....
If you don't make it to Moonshine,,, you ain't a Motorcycle Rider,,, you're just a Motorcycle Owner!!!