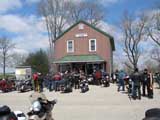 10th Annual
Moonshine Lunch Run
12 April 2014 in Moonshine, IL
4/15/2014 - Jason's drone video
4/14/2014 - Thanks to everyone who came and everyone that makes Moonshine Lunch Run happen! A new record has been set. 3,251 burgers were served on Saturday.
3/9/2014 - Richards Farm Friday night dinner price is confirmed and posted on event page.
1/8/2014 - I added a new hotel in Robinson on hotel page.
1/1/2014 - Registration and tshirt sales are open now. We are still waiting on a few things before we finalize the events page, but you can pre-order your chili supper tickets that the Casey fire department puts on Saturday night.
12/28/2013 - I added 2013 pictures to the site. Thanks to everyone who uploaded the photos.
10/19/2013 - I'm just starting to get the page ready for next year. My current project is to collect pictures of last year's MLR.
Keep checking back here for updates.
It looks like the 11th Annual will be 11 April 2015!
And remember Terry's famous words.....
If you don't make it to Moonshine,,, you ain't a Motorcycle Rider,,, you're just a Motorcycle Owner!!!