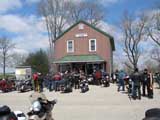 12th Annual
Moonshine Lunch Run
9 April 2016 in Moonshine, IL
4/10/2016 − In Terry's eyes, the weather cooperated perfectly. Jason and I would like to thank the Tuttles and all their helpers at the Moonshine Store, Bolin Enterprises Inc. and the Casey in Action for doing what you do for this event! There was still a great turn out and 1591 hamburgers were sold.
Please Note − A couple of format changes this year. Please read events page and if you pre−order t−shirts, read where pick−up locations will be at top of t−shirt page.
1/1/2016 − Happy New Year! Registration is open. The links page has a link for how to order Moontags.
12/31/2015 − I've been working on website tonight. You can donate, buy chili supper tickets and pre−order t−shirts now. I should be up around midnight to start registration.
Keep checking back here for updates.
It looks like the 13th Annual will be 8 April 2017!
And remember Terry's famous words.....
If you don't make it to Moonshine,,, you ain't a Motorcycle Rider,,, you're just a Motorcycle Owner!!!