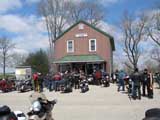 11th Annual
Moonshine Lunch Run
11 April 2015 in Moonshine, IL
4/12/2015 − Thanks to everyone who came and to those who helped make this weekend happen. 3,061 was the burger count for this year. Jason still has t−shirts available. You can email him at jason at garverinc.net. I will try to get a list of what is available posted here. I know the majority is large short and long sleeve.
4/08/2015 − I shutdown registration and Chili Supper pre−sale tickets. You can still come to event and eat at Chili Supper. Thanks everyone who registered and bought tickets.
4/04/2015 − The Church service has been moved to Saturday night.
1/17/2015 − We have been getting questions asking what a moontag looks like. Here is a link.
1/12/2015 − I apologize if you tried to order a moontag since I posted the information yesterday. I had the wrong email address. It is now updated below.
1/11/2015 − Moontags can be ordered by emailing boco.orders at(@) gmail.com. Please include first and last name, nickname or handle, hometown and state and choose a color; red, black or blue. Price is 10 dollars and they can be picked up at event.
1/7/2015 − We have stickers for sale now on the t−shirt page.
1/3/2015 − The Moonshine Curt Gran Memorial SaddleSore 1000 registration will start on January 11th and end on March 29th.
1/1/2015 − Happy New Year! Registration is open.
12/30/2014 − I'm just starting to get the page ready for next year. Registration should be open on January 1st and t−shirt pre-orders may be before that. Keep checking for updates.
Keep checking back here for updates.
It looks like the 12th Annual will be 9 April 2016!
And remember Terry's famous words.....
If you don't make it to Moonshine,,, you ain't a Motorcycle Rider,,, you're just a Motorcycle Owner!!!