A Bit of Moonshine History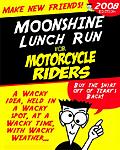 The Moonshine Lunch Run isn't your typical gathering of motorcycle riders. For starters, it happens in the middle of nowhere: Moonshine, Illinois, population 2. It happens at a place that's hard to find: unless you have the coordinates, GPS won't get you to Moonshine. It happens in early spring when the weather is usually cold or wet, and often both. It's never been and never will be a commercial event, so there are no sponsors to promote its existence.
Moonshine is a just bunch of people who like to ride motorcycles long distances – often thousands of miles – to be in the company of other people who like to do the same. And, in keeping with tradition, they have a hamburger. That's about it.
So how did this one–of–kind annual rider gathering get started? Riders can thank a one−of−a−kind long distance rider named Terry Hammond. Terry was a farmer from Casey, Illinois, who loved to rack up miles on a motorcycle. "When I'm riding around for 16 hours a day on a tractor," Terry said, "I'm dreaming of where I'm going to go on a motorcycle."
Back in 2004, Terry was looking ahead to spring planting and feeling a little down. Once farming started, motorcycling would end for him. The camaraderie with other riders he loved so much would have to wait until summer. But all those hours on a tractor gave him time to think, and Terry got an idea. He posted an invitation on a rider forum. If any riders cared to join him for lunch – in rural southeastern Illinois, in early spring – he was buying. His local friends thought the idea was crazy, but Terry knew there were riders who would "get it."
Jerry Waggener of Morganfield, Kentucky, was the first. He rode all the way from Kentucky. He went down half the gravel roads in Clark County before he finally found the place Terry wanted to meet, Moonshine Store. Jerry fessed up to Terry about getting lost. They shared a laugh, and then they got acquainted over Moonburgers. The Moonshine Lunch Run was born!
In 2005, Terry sent out the same invitation and more than 30 riders from 6 states showed up. The next year more than 400 riders from over a dozen states showed up. Year after year, word spread and the numbers grew.
Getting to Moonshine involves effort and commitment that people who have not ridden there don't always understand. One year, on the day before Moonshine, Terry received an email from a guy asking him to reschedule the event since the weather was so cold and wet. Terry replied that he would, but he didn't know what he would tell the 300 riders who already arrived from 29 states including Maine, Wisconsin, Florida, Arizona....
People who ride to Moonshine meet other riders who come on every kind of motorcycle out there. They see old friends and remember good times. They make friends and create new memories. Some sleep in tents, others in motel rooms. CMA Chapter #836 provides a "Blessing of the Bikes" and the people who ride them. Some riders enjoy an elephant ear sandwich, a sweet roll or two (or three), or a bowl of chili. All of them enjoy a Moonburger.
Moonshine isn't a competition, but there are some records out there. In 2008, Pete Rogers from Oasis, British Columbia, rode 2,196 miles for a Moonburger, so far the longest distance ridden to Moonshine. (Here is a picture of Pete's bike on the way.) In 2011, 1600 motorcycles and 1800 people showed up over a rain−soaked morning and sunny afternoon, and 2068 Moonburgers were served. In 2017, 3362 Moonburgers were served on a beautiful sunny day. Those are all records, too.
Terry conceived of the Moonshine Lunch Run as a fun event to bring riders together. Through his generous example, it also became a way of supporting worthy causes. Each year, participants donate many thousands of dollars that help people in crisis, support music education, provide hope for orphans and deliver crucial community services. This giving spirit continues the tradition that Terry started and that makes Moonshine unique.
Terry Hammond was a man of many, many words, but if you're still trying understand what Moonshine is all about, these few words of his may help: "If you don't make it to Moonshine,,, you ain't a Motorcycle Rider,,, you're just a Motorcycle Owner!!!"
Still not sure? Then ride your motorcycle to Moonshine. Ride there and you'll "get it."
Read more about Moonshine:
The 2010 story is here.
The 2011 story is here.
The 2015 story is here.
The 2018 story is here.
Here are a couple links from riders that have come to the Moonshine Lunch Run:
DavidLSI (Scroll down on this page, it has pictures of Friday afternoon lunch at Coles County Airport and ride.)
Claye Curtis wrote about her ride to and ride home from Moonshine.
Here is a write up about Moonshine, Illinois written by John Dappert.
Now, the YouTube video.
So, there you have the history of the Moonshine Lunch Run.