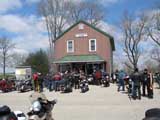 13th Annual
Moonshine Lunch Run
8 April 2017 in Moonshine, IL
4/09/2017 − Another great year!!!! We set a new record for burgers served at Moonshine Store of 3362!!!! Huge thank you to the Tuttle's and their workers and Bolin Ent. for their help with cooking. Lots of Bolin employees down there helping every year!!! I believe we almost filled Richards Farm restaurant Friday night serving almost 300 people. Tonight the fire department served 100 people chili and was a huge success for the fire department to raise money towards a new station one day. I hope that many of our local stores and gas stations had good days with all of the motorcycles in town. The people that come to the lunch run are always very nice and very generous and I'm glad to be a part of this wonderful event that ends up helping many local organizations with donations raised from shirt sales and donations. Thanks to everyone!!!! I think he is smiling!!
1/18/2017 − Happy New Year! Registration Form is up and T−shirts can be pre-ordered.
12/28/2016 − I've started working on site for 2017. I'm looking to have done for Jan 1st registration.
Keep checking back here for updates.
It looks like the 14th Annual will be 14 April, 2018!
And remember Terry's famous words.....
If you don't make it to Moonshine,,, you ain't a Motorcycle Rider,,, you're just a Motorcycle Owner!!!